I started listening to Jocko Podcast in November 2017 at episode #1. By the following March I had lost 35 pounds and completed my first Spartan race. Around that same time, I started getting up at 4:30am and posting a picture of my watch along with a quote from the podcast. It has been more than 18 months since I posted that first quote, and I have posted a unique quote from the podcast every single day since then, no days missed, no repeats.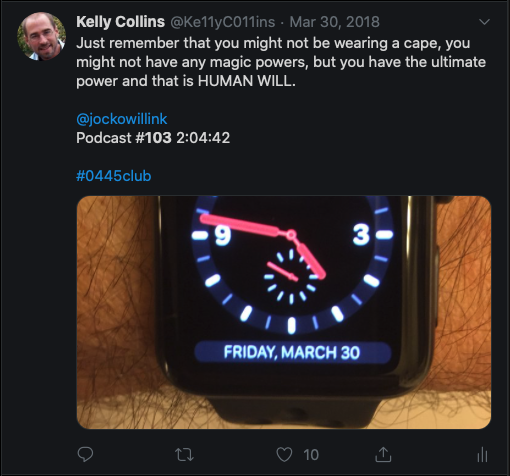 This means I have compiled a personal database of more than 500 quotes from the podcast. As of today, I have posted 557 of them on my Twitter page.
But I decided to take it a step further. As a token of gratitude for how the podcast has changed my life, and in an attempt to pay it forward to the community of Troopers out there, I created this searchable online repository of quotes from the podcast. You can search for quotes by word, phrase, or episode number. There are also buttons for getting quotes from the latest podcast, a "Quote of the Day," and a "Random Quote" feature that returns a different quote every time. Every entry includes the episode number and timestamp, and even has a link that takes you directly to the video of the podcast at the correct spot so you can hear it in Jocko's voice (or in some cases, his guest's). And I have taken care to ensure that all of the quotes are safe for Warrior Kids. There is no profanity.
One thing I want to make very clear is that I am NOT looking to profit from this in any way. I invested a lot of time and effort in compiling the list of quotes and building the website, but it is 100% a labor of love. There are no advertisements or marketing messages, and there never will be. My only motivation is the hope that sharing several hundred inspiring quotes from the podcast may help some folks stay on The Path.
Well, actually I do have one selfish reason for doing it. It makes me a better person and a better leader.
I hope you find this resource to be of some benefit. If you have any comments or suggestions for quotes that I missed, please send them to admin@jqdb.org.
Kelly Collins
October 11, 2019